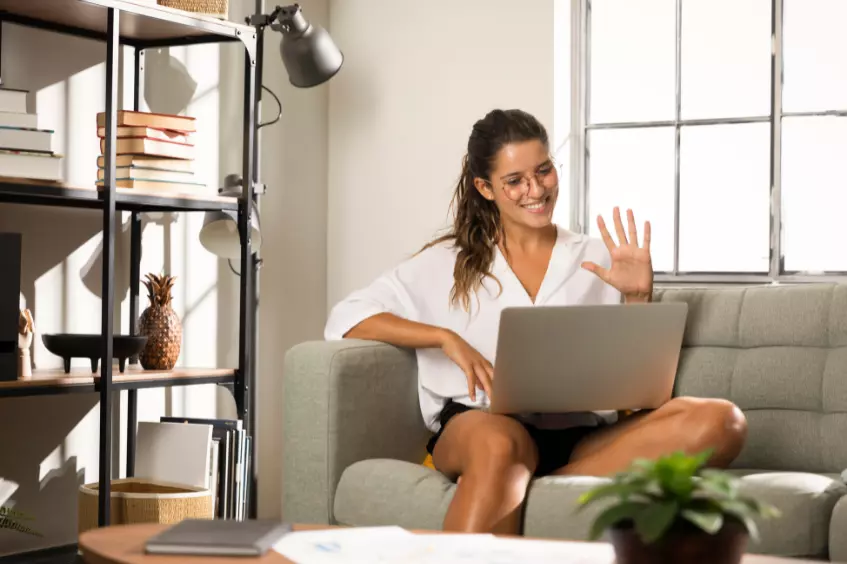 Remote employer branding.
Today, one year after the outbreak of the pandemic, there is probably not a single person thinking "this situation will be over in two weeks". Every one of us had to adapt to this new reality very quickly, and this is no different for both employees and employers. Within a very short time frame, companies had to change their way of thinking about EB, as well as the way they build relations with their employees – shifting from offline to fully digital.
The skilfully conducted marketing activities, based on meetings and offline events with a bit of digitization, quickly moved to virtual reality. How was this success possible? The answer is simpler than one might think. Many teams changed their methodology to one that is closer to Agile almost intuitively. There was no time to create new procedures or precisely define processes… it was necessary to flexibly react to changes, focus on people and solutions, and often adjust our activities. All this to make sure that employees who lost their footing and whose daily professional routine was disrupted still had a sense of stability. All of us engaged in EB and recruitment processes have known for a long time that Digital would increasingly often be used in EB processes. This was supposed to be an evolution, but the previous year showed us that the entire process of EB digitization was more akin to a revolution.
Let yourself be known 2in1
The fact that Social Media play an increasingly important role in communication and EB is nothing new. Through Social Media, employers more boldly show the organization of company culture and build its image. In this area, Digital Marketing gladly meets every need of a new target group – the teams responsible for EB – literally providing ready-made solutions and reliable practices.
Interviews with employees – many companies decided to involve their employees in recruitment processes as no one is better at talking about a company, its position and possibilities, than people from inside the organization. Because of that, the brand becomes more authentic and builds the engagement of existing employees. Currently, such talks are most often conducted in the form of Live interviews on Social Media platforms and the recipients are also involved as they can ask questions, provide comments, etc.
Activating competitions for teams and "hashtag" actions – first of all, both activities are to be a source of positive energy. They are meant to show the company from a remote perspective and to build the feeling of community.
Interactive surveys for new employees – one new thing that companies use today to get to know the needs and preferences of their candidates is the instastories format, which makes it possible to conduct surveys and to quickly aggregate data thanks to the "ask a question" functionality.
Online duty hours with recruiters – the previously mentioned "online" meetings can also take up the form of regular, scheduled duty hours during which recruiters answer questions coming from, e.g., the company's official communication channels.
Build relations and brand image through participation in online events
During the pandemic, many events, fairs and conferences moved online, and it is worth to participate in them. They are an excellent occasion to present a brand to potential employees, with all of its assumptions and values. At the same time, candidates get a chance to receive answers to their questions. The participation in fairs can be a task for selected employees who would assume the role of experts and company ambassadors. It is also worth to consider the organization of a virtual meeting/panel on our own – the costs of preparing such a meeting need not be very high due to its online nature.
Make new employees feel at home
Before the actual interview with a new candidate takes place, send him or her an introductory video in which company leaders participate. Even before they start their work, it is worth to provide new employees with a package that would include a warm welcome, basic information and the general outline of rules and culture in the company. Thanks to such an introduction, they will know who and what awaits them on their first day at work, and they will have time to prepare potential questions. A skillfully conducted onboarding is a perfect occasion to familiarize an employee with company values in practice and build his trust.
Stay in touch
Nothing normalizes workflow more than rituals. It is no different in the case of communication and building brand loyalty. Before the pandemic, we had completely different tools that made people feel they were a part of something – the "office" or the "workplace", even more than a part of the brand itself. Now, we must fill this void with regular online meetings that will keep our teams together!
The simple things, e.g., the preparation of official, professional and humorous covers for online talks make people remember where they work.
Summary
Employer branding has two sides. On the one hand, it is important to take care of brand perception outside the company, on the other – it is vital to confirm company values by creating an appropriate work environment, development possibilities and pleasant atmosphere for current employees. In today's reality shaped by COVID-19, it is a more difficult yet not impossible task. Through videos, show the world the remote or hybrid solutions you introduced and the impact they had on the life of employees. Share your observations on a blog, show your brand as an expert in remote work, present initiatives and strategies you implemented to support employees and maintain their engagement. Simply – "be present".
Article originally published here.